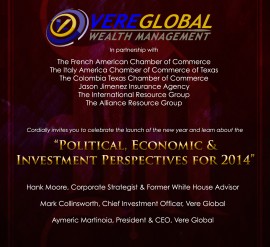 Vere Global Reception – Perspectives for 2014
Political, Economic & Investment Perspectives for 2014
Thursday, January 16, 2014 – The Marque, Houston, TX.
In partnerships with the French, Italian and Colombian Chambers of Commerce in Houston, Texas. Speakers: Mark Collinsworth, Vere Global Chief Investment Officer; Aymeric Martinoia, Vere Global President & CEO; Hank Moore, Corporate strategist and former White House Advisor.
Please check out the pictures of the event!